Hybrid Musk Roses
A B C D E F G H I J K L M N O P Q R S T U V W X Y Z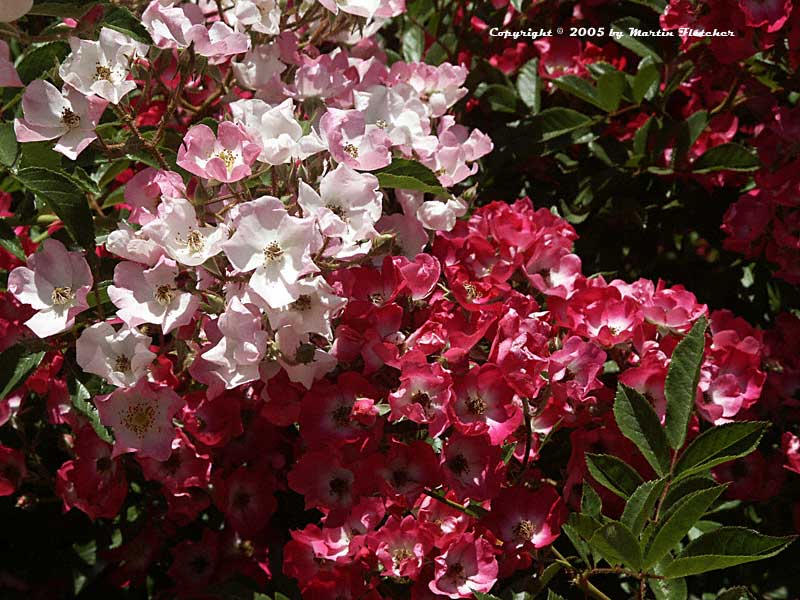 Reverend Joseph Pemberton did his hybridizing of the Hybrid Musk Roses in the early 1900's. He was a member of the English Clergy. Many of his hybrids have shown amazing durability in the landscape and are hugely popular today. I have several in my garden. When Pemberton first exhibited the roses he called them Hybrid Tea Roses and later changed the name to Hybrid Musk Roses. The name has little connection to the musk rose R. moschata and any genetic connection to this rose is limited at best. The 'classic' Hybrid Musk Roses include Clytemnestra, Cornelia, Danae and Penelope.
Florence Pemberton, Joseph's sister released what may have become the most famous of the Hybrid Musk Roses with Buff Beauty in 1928, three years after Joseph's death.
There is still an active breeding program of the Hybrid Musk Roses with 'Lyda Rose' and 'Doctor Robert Korn's' being released in the mid 1990's by hybridizer Kleine Lettunich of Corralitos, California.
As a group Hybrid Musk Roses tend to be strong growing roses. I use them either as large shrub roses or as climbers. I prune them for both purposes as I would climbers, attempting to keep the canes as long as possible. When the buds have shot out smallstems I cut them off one year and remove the cane to below where the side-shoots start the next. The blooms tend to be very long lasting and the hips give great Fall color. By repute hybrid musk roses are hardy to USDA zone 5 or lower. Some are better with a bit of shade than the average rose. They definitely do better with all of the sun that they can get, great mulch, plenty of moisture, and regular pruning, to keep them blooming repeatedly from Spring to late Fall. The following is a list of these incredible roses with links to information on the ones we have grown
Autumn Delight
Ballerina
Bishop Darlington
Buff Beauty
Clytemnestra
Cornelia
Danae
Dancing in the Wind
Daybreak
Doctor Robert Korns
Echoe
Erfurt
Eva
Felicia
Francesca
Grandma's Lace
Kathleen
Lavender Lassie
Lyda Rose
Marjorie Fair = Red Ballerina
Moonlight
Nur Mahal
Pax
Penelope
Pink Prosperity
Prosperity
Robin Hood
Sadler's Wells
Sally Holmes
Skyrocket = Wilhelm
Thisbe
Trier
Vanity
Wilhelm = Skyrocket
Will Scarlet